I spoke too soon! Misti Pima Cotton/Silk = bad yarn for Barbarella. Look:


Not cute. It just doesn't have the polished feel that the sweater really needs. I love the yarn, I love the pattern, but the yarn and pattern do not love each other. I tried out some various swatching with different needle sizes, and it's just not coming together. I'll keep an eye on the pattern, but since I have all this yarn so it's to the internet to search for patterns.

I found and cast on for another Drops sweater. This time it is Drops 105-5.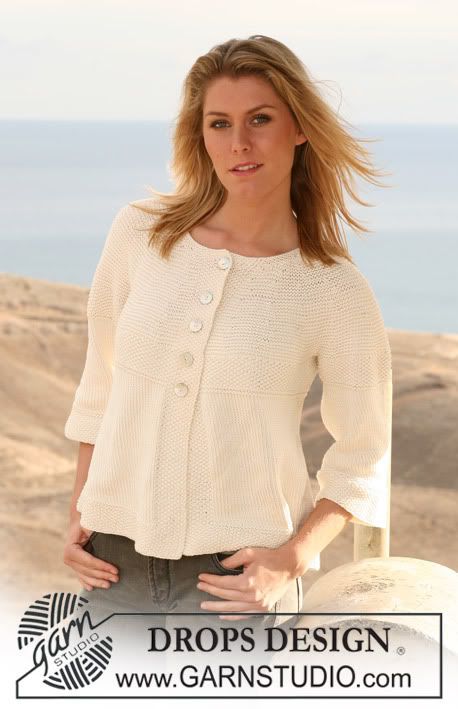 I've liked these little flared swing jackets that have been popping up, and in cotton it will be a nice cover up for the office and chilly evenings. Also, it's worked in once piece starting with the moss stitch band in the middle. Hardly any seaming! Sounds like a plan.

Back to what to do about Barbarella... I have this Turquoise Tunic which was one of the first sweaters I ever knit. I don't wear it and am thinking about reclaiming the yarn and trying to overdye some of it for a main color. It's Knit Picks Shine (sport weight, I think), and I want to turn it darker and probably more blue. I'm not real picky about how the color comes out, I just don't care for the teal color. Anyone have experience dying Cotton yarn? It also has some Modal in it. I hear that Procion MX will be a good type of dye to test out -- anyone have experience with it? Procion MX is for cellulose fibers and should work on cotton...