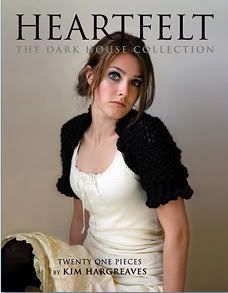 I love looking at the new collection on Kim Hargreaves' site. Heartfelt features 21 gorgeous knit pieces that are romantic and classic, with a modern flair. The photo styling is simply gorgeous, with all the samples knit in neutral tones (but why's the model so sad?). I've found myself returning to the site everyday, because every day something new catches my eye there.

Kits are available for most projects, in which you can order the yarn and buttons when you order the book (you have to order the book separately), and the yarns are from Rowan. Unfortunately, the book is only available through mailorder on her website, making it a pretty pricey investment. I have enough projects lined up for awhile, so I think I'm going to wait and keep my eyes out for a stateside publication. If that doesn't happen in the next half year or so, I might just take the plunge.

Click through to take a peak at Kim Hargreaves new pattern book, Heartfelt - the Dark House Collection.