Cottage socks are finished and cozy and warm. I've been wearing them all day, and they make a lazy Sunday, sitting at home , watching Food Network, just a little bit nicer.



These were very quick to knit up. Only a few hours total for each sock. I actually started these back in January, but working on Glee led to a bit of second sock syndrome. I love how the bulkiness of the yarn really helps to show off the construction of the sock.



Project Details
Pattern: Cottage Socks from Lion Brand (available on the website, and on the ballband for the yarn.
Yarn: Lion Brand Wool Ease Thick and Quick in Wheat
Needles: US 13 (two circular method)

OK. So now onto Glee progress. The shot below shows where I am at the end of my last ball of yarn. I'll have to order more to finish up the ribbing along the bottom, sleeves, and button bands. Here's the problem: I've tried it on and it is HUGE on me. I'm swimming in it! So now the question is whether or not it will look ok a little oversized, or if I should frog the whole thing and just start it over. Part of what I liked about it was its close fit, so I may have to face the sad truth and do what is necessary to come out with a sweater I'll really love.



For now, I'll leave it on waste yarn while I order, and go through patterns to pick out something else I might want to make out of yarn from Knit Picks to make it worth placing a whole order, and decide what I ultimately want to do with this.

In the meantime, I've decided on my first pattern from Big City Knits. The shopping tunic: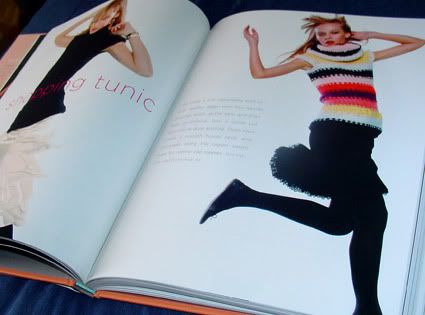 The dilema here is yarn selection. I want to use Lamb's Pride Chunky, but it seems silly to make a short sleeved sweater using three strands of wool yarn held together, even when that is what the pattern asks for... me and my Cottage Socks will be doing some yarn research with the rest of the day!