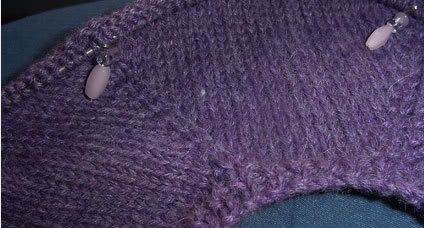 Stealing moments here and there all week to work on some rows. See how pretty the stitches are? Allright, well, it's ok if you don't. I have a broken camera that doesn't allow me to change settings for close ups. But trust me, this is the best looking knitting I have ever put out. I am rather impressed with myself right now!

This is about halfway through the first set of increases, and the portion you are looking at in the photo is part of the back, and the faux shoulder seams (where the increases are done).

I should also mention that the pretty stitch markers you see were a gift during (I believe) SP3, back when I had a different blog (that I can't even remember the name of anymore). I do, however, know that the person I was gifting sent ME these pretty things. How sweet, right?