The New Year was rung in our standard, imbibed fashion, with many signs pointing to a great year ahead. I hope everyone is doing well and is happy and hopeful for the new year.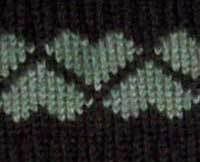 Here is another hint of Cheesylove, finally blocking. By New Years Eve I had all but half of an arm seam finished. So in all fairness, this will be the first finished object of 2007. With a rather meager list of FOs from 2006, this will help to make a more impressive list for the upcoming year.

More photos to come tomorrow once it is dried, plus some knitting resolutions for 2007.