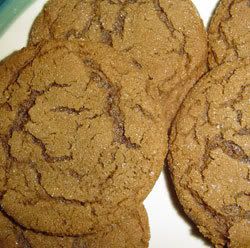 Mmmm... Christmas baking! I haven't made cookies in years, but I've been itching to make some for the last couple of weeks. I finally caved and bought a hand mixer last weekend so I could do some baking.

As a teenager I baked all of the time. While I was in college I worked at the popular cafe/coffeeshop, where I did the baking a couple times per week. Billions of muffins, cookies and brownies. As a student, it was pretty rough to have to get up at 5am for a baking shift, but I always preferred it to waiting on customers or running the grill. I could hide away in the basement and listen to Kate Bush or Dianne Rehm on NPR. I was told I made the best peanut butter cookies ever, and actually got kinda famous(ish) for them among the regulars.

These, however, are not peanut butter cookies. These are ginger snaps. I used this recipe from Allrecipes. Very simple and they make a nice crispy cookie that stay soft in the center once they cool. I'm on a sugar high right now. I'll be crashing in 5....4....3....2......