I feel like the past couple of weeks has been a whirlwind, but that I've barely gotten a thing done at the same time! I've put a lot of pressure on myself for trying to get things done, both professionally and with hobbies, though the professionally has taken precedent for the time being.

I haven't mentioned this yet, but I recently quit my full-time job (somewhat abruptly) and am now trying to get situated as a freelance graphic designer. I focus on print work, and I was lucky enough to get a job straight off the bat doing art direction for a bi-monthly magazine. On one hand it is a dream assignment, because I love to do editorial layout. I am now trying to find a way to land another similar assignment, which would allow me to live fairly comfortably, and give me enough time to pursue some of my other interests - namely an attempt at some knit wear design, as well as taking a stab at starting a paper company.

I haven't completed any knitting, but I have recycled the yarn from the Ribby Cardi and re-wound it into center-pull balls. I'm itching to get some work done though. I have my secret project almost finished... and that will be also my first felting project. I hope it works!!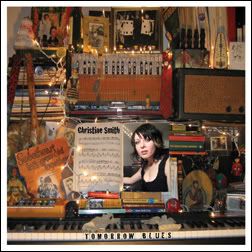 On another note: Check out my buddy Christine's new CD. Went to the record release show last night and it was absolutely fantastic. Seriously, it's like nothing you've ever heard - theatrical and beautiful and haunting and a bit brooding.

Click HERE to check out some samples on myspace.