Check out this cute cardigan pattern from over at the Cosmicpluto Knits! blog. It's a great basic cardigan that I could see wearing at the office to ward off freezer burn from the ever-present air conditioning. I absolutely LOVE the fit of the sleeves. They look just perfect without resorting to a bell sleeve or the supertight wrist opening (though obviously I've never learned to tweak patterns to customize my own sleeves yet). I'm putting it on my list "to knit."





Ysolda has just put out this pattern for the Cloud Bolero via the new British online knitting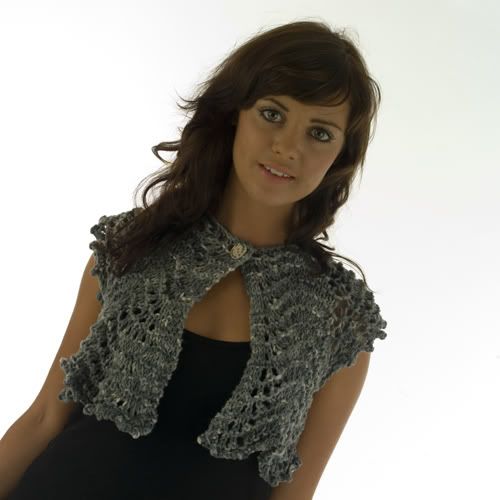 magazine Yarn Forward. Beautiful! I may just grow to like boleros. I'm keeping this one on the list too. And keep an eye on that magazine. If this pattern is any indication, it really looks like it's going to be great.

Ysolda has some other great patterns available through her blog. I first fell in love with the Apocolypse Tree Hoodie last winter, and this free pattern for some Stuffies is one of the few that I actually like, Stuffie-wise (or is that Stuffy-wise?).

Twisted Knitter is generous and is giving away her chart for keeping track of your needle inventory. She also gives a link to her spreadsheet template, for keeping track of the yarns in your stash and possible projects for them.

Last but not least, Yarnival launched this week. It's a great idea - a monthly roundup of interesting articles and posts from blogs covering various subjects in knitting - especially to help some of the smaller and less popular blogs gain some exposure AND better yet, introduce people to blogs they may not have stumbled across on their own. I think once I feel more established with Lekkercraft, I may just submit to be listed!

And a mini-celebration for me–I broke away from my work and knit a couple rows on my tunic sleeves. I was itching to make even just a little progress. But at the rate I'm going I may just fulfill my own prophecy of completing this summer sweater in December. Realistically I'll be planning to finish in October, as September will be used to sort out all the other life crap that's filling up my time right now.

BUT the biggest celebration is outside—someone is filming a Bollywood movie outside of my apartment building, complete with singing, chanting, dancing, bright lights, and about 10 million repeats of the same scene over and over. They've been filming since Monday.

Time to

zzzzzzzz..........