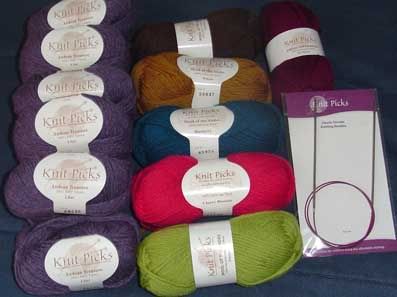 And here is what was inside.

The purple on the left is the Andean Treasure for Glee. It's baby alpaca and is so soft. I love it. I really do. I can't wait to work with it.

The middle row are just a set of regular Wool of the Andes that I got because they are just $1.99 and I wanted some color and who doesn't need more wool? In the same way that I like Color Aid paper, I like to place the hanks in differnet sequences and combinations

The upper right is a skein of Swiss Superwash and it is also incredibly soft. I should have stocked up on some more of those instead of the WOTA.

I also got a #2 32" circular in the hopes of trying magic loop. I'm not sure that the cord will be long enough for that, though. It seems like 40" is the norm. But it sounds like people get by with the 32". I'm surprised, though, that Knitpicks doesn't offer a longer cord for the smaller diameter needles - but with the rate that their business is increasing, I wouldn't be suprised to see them fairly soon.

I also saw today that Hello Yarn is offering acid dye kits, with everything you need to learn to dye fiber. This is the perfect solution for someone just starting out. All the mixing cups and eyedroppers and instructions. All you need of your own is white vinegar. I'm toying with the idea of getting one of these to do some varigated red yarn to possibly attempt the Stitch Diva Knitted Bodice. The Tilli Tomas yarn required, though incredibly beautiful, is awfully expensive. I'm keeping my eyes on the KAL to see the results people come out with - which will be lovely, no doubt.