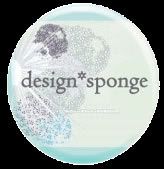 I love how every day Design*Sponge posts trickle in through my bloglines, giving be little bits of aesthetic joy throughout the day. Grace Bonney has an amazing knack for sourcing out some of the freshest, hippest, sometimes-obscure-but-always-inspiring new products—Everything from furniture, to letterpress, to jewelry and accessories, to interior design, and everything in between and beyond.

I was so excited in April when the Design*Sponge Podcast launched and I was able to listen to interviews with some of these fantastic indie designers (I'd list them here, but I really think you should go and check out the podcast site and take a look). Many of these designers I've had my eyes on for awhile, and some I've just learned about by subscribing. It's so great to hear from them on everything ranging from inspirations, current trends, how they got started, what's next on the agenda, career/creative advice, etc.

You can subscribe to the Design*Sponge podcast directly through iTunes, or you can listen directly from the Podcast site (link above).