Current Project
The Simple Socks from Cat Bordhi's book on socks on two ciruclar needles. I am HATING the technique, but I'm still getting used to it and am hoping it will become more comfortable. Also, these are my first socks and my first small-diameter circular knitting whatsoever, so I know it will get better, and I'll figure out some of the tricks to keep it looking good. Or get it looking good, for that matter. I find that no matter how tightly I pull the yarn, I'm still getting ladders where I switch the needles out. I don't think I could pull it any tighter! I may try magic loop technique on the second sock and see how the two of those compare.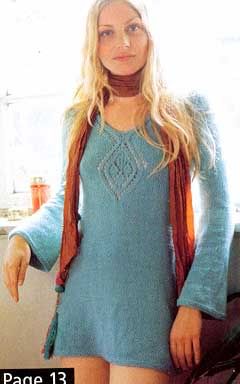 Next Project
Turquoise Tunic from Rebecca 31

Instead of the GGH Linova the pattern calls for, I've got KnitPicks Shine Sport (in, well, turquoise) on the way. I'm not a master at yarn substitution, but i think the gauge will be similar. I expect this to be rather boring to knit for the most part, but the finished product is sure to be beautiful!

I have to say that I love having KnitPicks as an option for purchasing yarn. I'm not advanced enough yet to invest in expensive yarns and be confident that I'll love the finished product. I have three finished sweaters that I plan to frog to reclaim the yarn for other projects that I will actually wear. I'm not precious about saving things I worked on forever if I'm not going to wear them. And I'm still learning about what kinds of projects I like to work on, and what will look good on me, and what I will actually get a lot of use from.

In other news....
One fun part of living in NYC is the occasional celebrity-sighting. In the spirit of a minor tabloid addiction, may I present....

LekkerStalker
Today's Sightings:
Daniel Vosovic (Project Runway finalist and just about my favorite celebrity-sighting EVER) and Moby.

Oh, and I bought both Rebecca 30 and 31 directly from the Rebecca website. I found that if you purchase two at one time, the price conversion plus the shipping comes out to about $12.50/issue, as opposed to the $16.95/issue it can go for at the yarn stores.